Wall Panel Automatic Grade
Overview
Specifications
Condition:

New
Application:

Produce Wall Panel Automatic Grade: Semi-Automatic Production Capacity:150 pieces per hour Place of Origin: Jiangsu, China (Mainland) Brand Name: HB Voltage: 380V Power(W):50kw Dimension(L*W*H): 12600*1950*1600mm Weight: 11000kgs Features: Semi automatic:ISO9001 Warranty:1 Year After-sales Service Provided Engineers available to service machinery overseas Packaging & Delivery Packaging Details: In 40'HQ containers Delivery Detail: 30 to 40 days
Product Description
| | |
| --- | --- |
| Equipment parameters | Description |
| Capacity | Maximum 1,200pieces/shift/8hours |
| Automatic degree | simple/ semi-automatic |
| Raw material | MgO,  MgCl2, perlite, saw dust, etc |
| Finished board size | Thickness: 3 to 40mm, length: 2400 to 3600mm |
| Color | White, pink, grey, etc |
| Finished board type | can produce common board or coated board |
Raw materials of producing MgO Board
---
LEADERGROUP is a professional equipment manufacturer, main equipment are following: Magnesium Oxide Board (MgO Board) Production Line, Fire-resistant Decorating Board Production Line, Straw Board Production Line, Straw Door Production Line, Wall Board (Sandwich Wall Board) Production Line, Vent-pipe Board Production Line and Roof Tile Production Line. The above production line can produce Magnesium Oxide Board (MgO board), Fire-resistant Decorating Board, Straw Board, Straw Door, wall board(Sandwich Wall Board), vent-pipe board and Roof Tile.
1. Product
MgO Board Machine mainly produces all kinds of magnesium oxide boards, they can be used for ceiling, wall skirting, decorating of indoor wall and lining board for furniture.It can replace the three-ply board, five-ply board, flakeboard, MDF (Medium Density Fiberboard ) and Gypsum Board.

2. Raw material and cost analysis
The product is formed with crushed crop straw or sawdust and some inorganic chemical materials at one time after roller-extruding. The source of raw materials is widely and they are purchased easily for customers.
Take specification of 1.22mX2.44mX3mm as example, the cost is 7~8 Yuan, and the market price is generally 13~16 Yuan.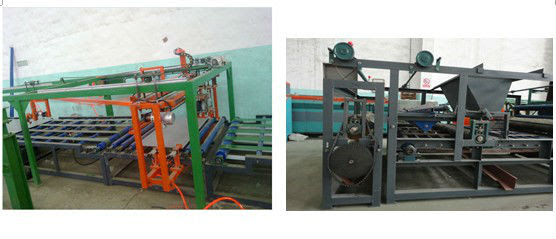 3. Technology features
There is not any requirement about high temperature and high pressure during production processing. The board will be formed at one time after roller-extruding under the conditions of normal temperature and normal pressure. This is a green environmental protection project, because that there is no waste water, waste materials and waste gas during its production processing. The finished board doesn't need high temperature drying, air-drying and watering, and under the normal temperature, they will dry well indoor.
4. Equipment Model and Product Specification
According to different production, our equipment has 6 models for large-scale, middle-scale and small-scale. Our all equipment can produce board with same quality and specification but different production.
The board with the thickness of 2-60mm, the biggest width of 1, 300mm and unlimited length. So you can adjust the thickness of board at will. The standard specification of the board is 1.22mX2.44m.
---
Overview

Specifications

Condition:

New, New Application: AUTOMATIC, Other Automatic Grade: Automatic, AUTOMATIC Place of Origin: Shandong, China (Mainland) Brand Name: TY Model Number: TY-1200mm Voltage: 380V Power(W): 70W, 70 Weight 2000T, 2000T Certification: CE Warranty: 1year After-sales Service Provided: Engineers available to service machinery overseas Screw Design: Single-screw Skype: jessicalv2 Phone: 0086-13668652286 warranty: 1year Packaging & Delivery Packaging Details: Standard exported packing Delivery Detail: 45days

Specifications

Salable mgo partition board making machine EPS cement sandwich board line less money spent  Salable mgo partition board making machine

This set of equipment after assembly will form a complete automatic board production line, which can be used in the production of many kinds of decorative construction base boards such as reinforced fiber cement board, magnesium oxide board and various types of structural insulated panel

Salable mgo partition board making machine

This production line adopts continuous roller pressing crafts for board making, has basically realized the automation of all production process (automatic moulds loading, automatic oil coating, automatic spreading of fiberglass mesh, automatic shaping and forming, automatic cutting-off, automatic board stacking, automatic demoulding and automatic four sides splitting). All conveying roller and forming rollers are made of stainless steel, which can effectively prevent the materials from corroding the equipment during the production process , and ensure the service life of the equipment.

magnesium oxide board production plant producer Skillful installation & commission technicians ISO Certified, free training magnesium oxide board production plant production plan Magnesium fireproofing board comply with national standard FM-BJC688

Specification:

Thickness: 2-24mm Width:1200mm-1220mm Length:2400mm-3000mm Type: currently magnesium fireproofing board, sanding and refining fireproofing board

2) magnesium oxide board machine Major technology Material: decided according to the situation of buyer magnesium oxide board equipment Manufacturing course: (1) complete automatic type (2) Semi-automatic type

Salable mgo partition board making machine : 1. Double-axis mixing machine 2. Slurry machine 3. Foaming machine 4.60 type pulverizer(include dust collecting machine) 5. Screw type brine blender 6. Motor-driven board uploading machine 7. Automatic oil spreading machine 8. Full-automatic making machine 9. Speed-up repressing machine 10. Automatic cutter 11. Assembly line eight heads cutting machine 12. Automatic finished board stacking machine 13. Pulse type dust collecting machine 14. PLC automatic controlling system 15. Hydraulic type trolley 16. Sawdust griddle Salable mgo partition board making machine
Salable mgo partition board making machine

Magnesium fireproofing board comply with national standard FM-BJC688Specification: Thickness: 2-24mm Width:1200mm-1220mm Length:2400mm-3000mm Type: currently magnesium fireproofing board, sanding and refining fireproofing board 2) Mgo board production line Major technology Material: decided according to the situation of buyer Manufacturing course: (1) complete automatic type Salable mgo partition board making machine